ORDER ONLINE
Piano Technicians and Dealers can
order online, or phone us toll-free at
1-800-347-3854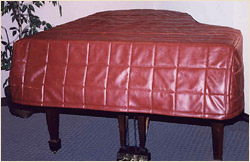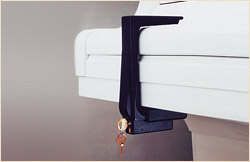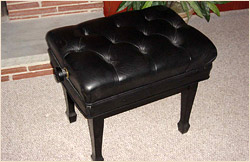 ACCESSORIES
Pianotek Supply Company offers an extensive line of benches, moving equipment, and accessories to enhance the piano experience.
Among these accessories are the finest piano covers in the industry. Each cover is custom-made for the exact make and model, and is available in 5 different materials. From the basic Ranchide to the upscale Sunbrella, we have a material to suit even your most discriminating client. Constructed with double-stitched seams, and lined with a fire-retardant body cloth, each cover has a glove-like fit sure to please and impress. Color swatches are available upon request.
Pianotek also owns the patent for and manufactures the popular Hands Off Reserved for Performance fallboard lock, which is used in institutions worldwide. This unique fallboard lock features a self-contained locking device, and is virtually indestructible.
Literally hundreds of combinations of leg styles, colors, finishes, and upholstery can be found in our line of piano benches. Whether your client is a private owner, institution, or performance hall, we have a bench to meet their needs.
Pianotek carries a wide variety of caster cups and moving equipment. In addition, we have a select line of books and DVD's that cover all topics in piano rebuilding and servicing.
Click on one of the links below to view the corresponding catalog pages.
BENCHES
VIEW CATALOG

»

BOOKS & DVD'S
VIEW CATALOG

»

CASTER CUPS
VIEW CATALOG

»

COVERS
VIEW CATALOG

»

HANDS OFF FALLBOARD LOCK
VIEW CATALOG

»

MOVING EQUIPMENT
VIEW CATALOG

»

TRUCKS & DOLLIES
VIEW CATALOG

»