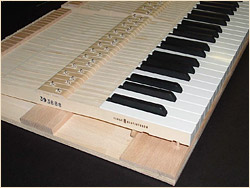 NEW KEYS ON NEW FRAME
A complete set of new keys is supplied on new frame from our partner Kluge Klaviaturen of Germany. The new frame will require fore finishing, bedding, and fitting. This is the perfect new key option when the old frame is beyond repair.
Beautifully matched spruce used for the keys.
Quarter-sawn red oak for the front and balance rails.
Key covering options include Tharan or Ivoplast.
Plastic or ebony sharps.
This job can be completely custom, or we have many standard models in stock.
Can be fore finished at Pianotek.