ORDER ONLINE
Piano Technicians and Dealers can
order online, or phone us toll-free at
1-800-347-3854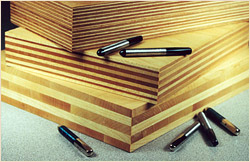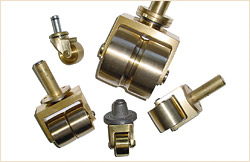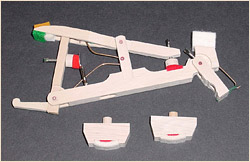 PARTS
We know that the quality of your work is dependent upon the quality of our parts.
Whether the part you need is as large as a soundboard panel or as tiny as a rubber grommet, you can trust Pianotek to deliver quality parts. As an example, our in-house action manufacturing and rebuilding department demands that we carefully research and test all of the parts we use before we install them.
That is why Pianotek has always endeavored to provide not only the standard line of parts, but also parts that meet the needs of the most discerning rebuilders. Our inventory is extensive and wide ranging – from 17 styles of rubber buttons to 5 styles of Steinway wips!
Our catalog features actual size photos of action parts to make the ordering process easier. But if you don't see it in our catalog, give us a call –
we're always developing new ideas.
Click on one of the links below to view the corresponding catalog pages.
ACTION HARDWARE & PARTS
VIEW CATALOG

»

BRIDGE CAPPING & BRIDGE PINS
VIEW CATALOG

»

CASE HARDWARE
VIEW CATALOG

»

CASTERS
VIEW CATALOG

»

FELT & CLOTH
VIEW CATALOG

»

GRAND ACTION PARTS
VIEW CATALOG

»

GRAND HAMMERS
VIEW CATALOG

»

GRAND WIPPENS
VIEW CATALOG

»

HAMMER BORING DRILLS
VIEW CATALOG

»

HAMMER DUPLICATION SERVICE
VIEW CATALOG

»

KEY COVERS & KEY SERVICES
VIEW CATALOG

»

MUSIC WIRE & BASS STRINGS
VIEW CATALOG

»

PEDALS & LEG HARDWARE
VIEW CATALOG

»

PINBLOCK MATERIAL
VIEW CATALOG

»

RUBBER BUTTONS & KNOBS
VIEW CATALOG

»

SCREWS
VIEW CATALOG

»

SHANKS & FLANGES
VIEW CATALOG

»

SOUNDBOARDS
VIEW CATALOG

»

TUNING PINS
VIEW CATALOG

»

UPRIGHT ACTION PARTS
VIEW CATALOG

»

UPRIGHT HAMMERS
VIEW CATALOG

»