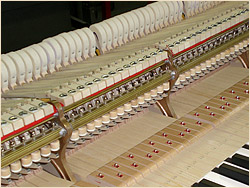 NEW ACTIONS
We can assemble entirely new actions to be used on existing keys and frame, or on new keys and frames. We set the action geometry to ensure good touch and regulating capability. With our enormous parts inventory, a wide range of options are available to the technician.
Fore finishing can be done in our shop to new keys or your keyboard.
Center pinning on parts is checked and adjusted where needed.
Hammer strike weight is precisely calibrated to a tenth of a gram for an even weigh off and weight curve.
Can be regulated in preparation for weigh off.