ORDER ONLINE
Piano Technicians and Dealers can
order online, or phone us toll-free at
1-800-347-3854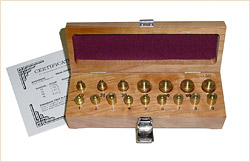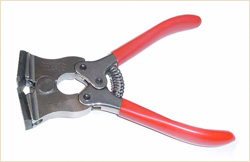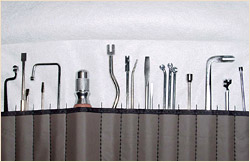 TOOLS
At Pianotek, we don't just sell tools. We use them.
Since Pianotek is a technician-driven business which developed out of a history of rebuilding and servicing, we only care about tools that actually work. Our blend of standard and cutting-edge tools provides the technician with a selection not available elsewhere.
Our reputation for supplying and manufacturing the finest tools is what leads our fellow technicians to us with their own unique ideas. In fact, we have worked with many technicians to further their concepts and to bring their ideas to fruition.
We believe in evolution, and therefore we're constantly striving to develop the tools you need to work more efficiently.
If you've heard about a new tool, it's probably here.
Click on one of the links below to view the corresponding catalog pages.
Action Center Tools
VIEW CATALOG

»

ACTION SUPPORTS
VIEW CATALOG

»

ACTION WEIGH-OFF TOOLS
VIEW CATALOG

»

AGRAFFE TOOLS
VIEW CATALOG

»

BACKCHECK TOOLS
VIEW CATALOG

»

DAMPER TOOLS
VIEW CATALOG

»

DRILLS
VIEW CATALOG

»

FILES
VIEW CATALOG

»

GAUGES & MICROMETERS
VIEW CATALOG

»

HAMMER TOOLS
VIEW CATALOG

»

KEY REPAIR & REGULATION
VIEW CATALOG

»

KNIVES & SAWS
VIEW CATALOG

»

REBUILDING TOOLS
VIEW CATALOG

»

REGULATING TOOLS
VIEW CATALOG

»

RETRIEVING TOOLS
VIEW CATALOG

»

SCALES & RULERS
VIEW CATALOG

»

SHANK & FLANGE TOOLS
VIEW CATALOG

»

STRINGING TOOLS
VIEW CATALOG

»

TOOL & STORAGE CASES
VIEW CATALOG

»

TUNING TOOLS
VIEW CATALOG

»

VOICING TOOLS
VIEW CATALOG

»

WIRE CUTTERS
VIEW CATALOG

»

WOODWORKING TOOLS
VIEW CATALOG

»